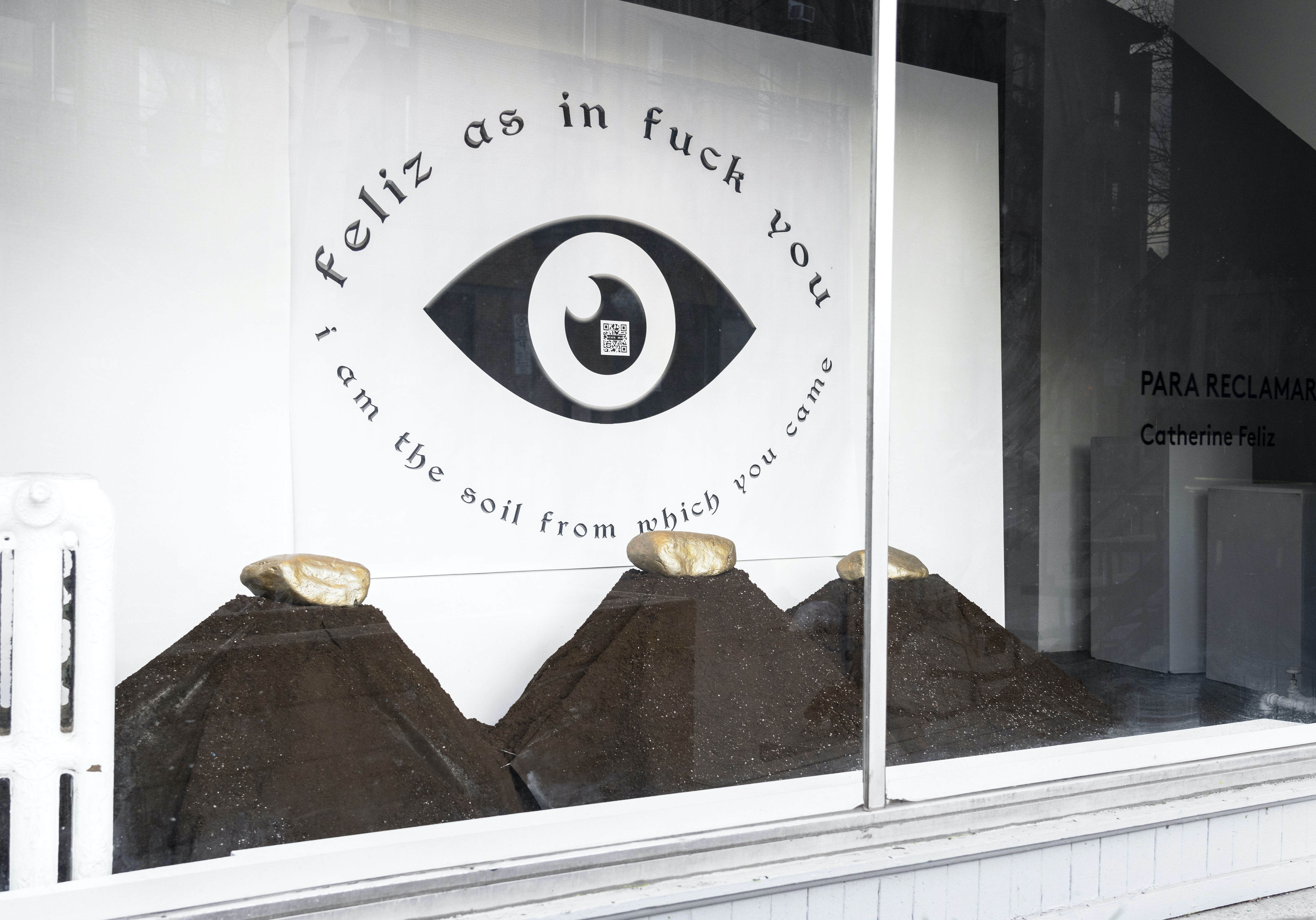 Window installation: golden nuggets, mounds of dirt, vinyl graphic, single channel video [3:33 min].
2021
Para Reclamar
Solo Exhibition
March 26 - April 25, 2021
articule, Montreal, Quebec
Para Reclamar
is part of Star Feliz's ongoing inquiry into photography's role within the explorer's imagination, through a personal engagement with land-based practices. In exploring the Yuna River contamination by Canadian-owned Barrick Gold Corp & Goldcorp Inc mines in Cotuí, the Dominican Republic, Feliz conceptually builds a triangulation among the extractive practices that threaten life throughout the globe and asks how does neo-colonial design exert influential power over the earth's resources? Activating a QR code takes viewers into the eye of a dream rich with the prospect of excavating buried knowledge. To reclaim is the seeker's journey.
Feliz as in Fuck You, I am the soil from which you came
is a statement of retribution from the source.
---
Untitled (for We Are All Vessels)
, 2020. Paper mache and wire. 25 w x 6 d x 6.5 h inches.
2021
We Are All Vessels
April 29 - June 12, 2021
Susan Inglett Gallery, New York, NY
"Maren Hassinger observes that "vessel" is a term often ascribed to women. She asks that we free ourselves from the traditional limitations of that label, using her work to expand its meaning: "I believe that the word 'people' does not make the distinction of race, or gender, or class, or origin of any sort." Hassinger shares the space with young artists, former students. By creating a platform where young and old, established and emerging, work together side by side equally, the project itself reinforces these signals of humanity. In the qualities shared by these vessels, and between us, we see our commonality writ large. We are indeed all Vessels." -
Susan Inlgett Gallery
The sculpture grew from an exploration of the vessel form using common materials that I had at hand at the time. I'm interested in disrupting origin myths, particularly myths perpetuated by structures of violence. There's not one but two openings in my vessel. This creates a multiplicity in relations -- a relation to what's outside, what's within, and the hand that called it into being for example.
---


2019 — Ongoing
a chiasmus

Single Channel Video

This video is part of a series of new media and sculptural works entitled 'a chiasmus', taken from the figure of speech used in popular visionary rhetoric. This project is influenced by my childhood speech disability and contemporary writings in the radical black speculative tradition. meaning escapes us but the river won't (a chiasmus) is a developing video piece exploring the healing power of water as it is translated across cultural symbols, materials, and language.



---


2017
This Beauty Can Be Your Undoing

Mixed Media Installation



An impenetrable sculpture stands in the center. It is the source of a recording that references the personal accounts found on websites that cater to American and European men traveling to the Dominican Republic to have sex with women. The disembodied voice calls to a process that creates exotified images of womanhood, and the sensuous wallpaper recalls the ruptures in history that symbolize caribbean identity and political instability. Through the window we see ourselves reflected. Here, there are limitations to who gets enter and leave freely and define what paradise looks like.



---


2017
you speak as if drowning in the ocean you had to cross

Mixed Media Sculpture

A monument to a reflection on memory. Featuring a recorded oral history interview from a Haitian-American migration story, textures of the ocean, aromatic scents, and hand dyed colors. The mixed-media sculpture attempts to frame the borders we can't see -- trauma & silence.


---


2017
Virtual Caminos

Single Channel Video

Drawing from ethnographic video, news reels, and footage from the U.S occupation in Dominican Republic, I'm activating the crossroads by recontextualizing images to make sense of the black body's experience on an island where freedom is constantly being negotiated, but never guaranteed. At the boundary there is waiting, there is also a dance through different forms of ritualistic state identification and vigilance that can open or close the opportunity for migration. With or without state permission, we are taking agency because freedom is accessed through the metaphysical that grants us liberation.



---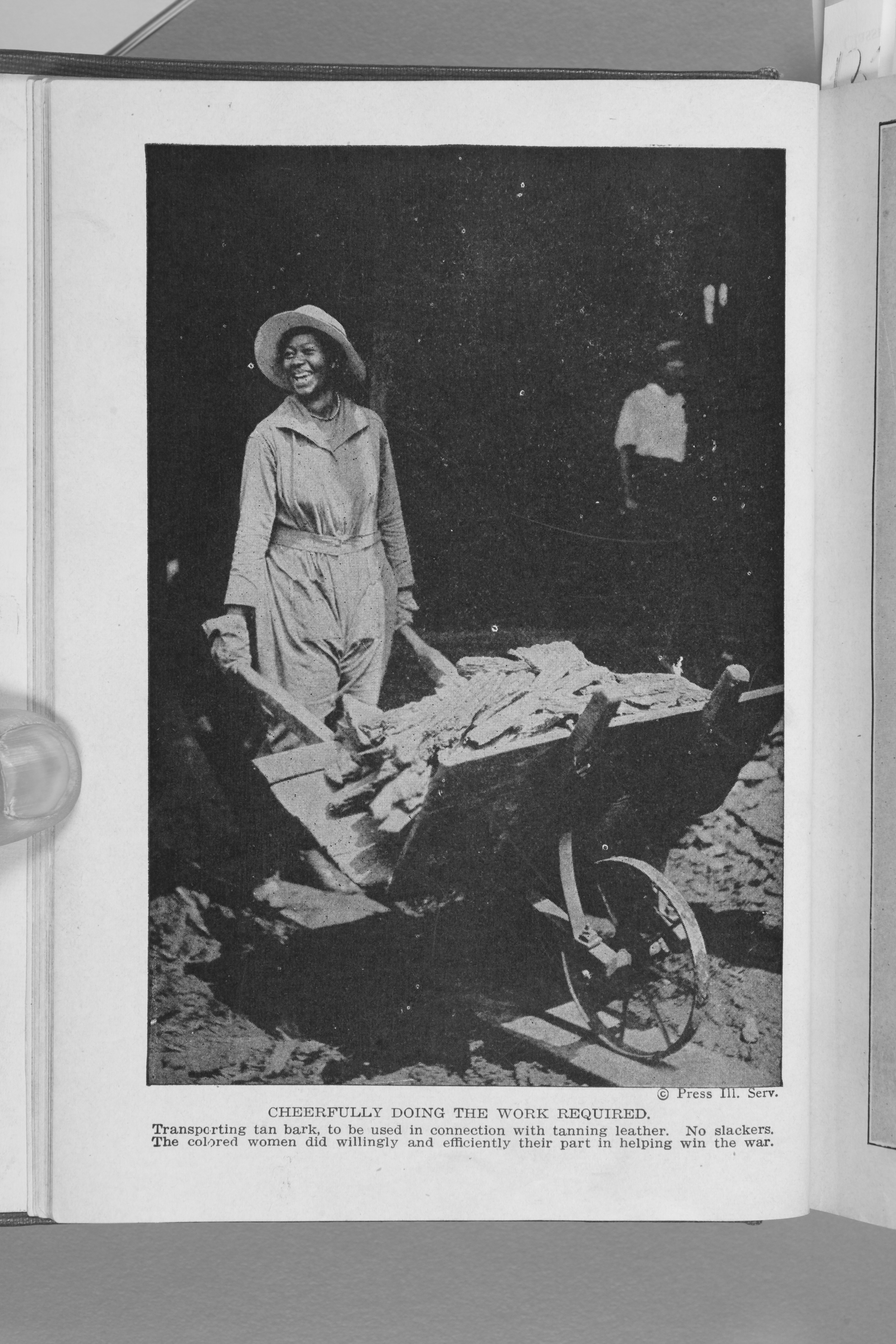 2016
Good Stock

Sculpture

What is the western scientific desire to slice things open in order to "understand" and begin to "empathize"? Good Stock is an attempt to release generational memories of subjugation from the body in order to begin to locate deep wells of pleasure. Made with an industrial pallet carried solely by the artist from Long Island City to Westchester County, NY, the making of the piece was a performance in endurance. This unseen labor is reflective of the weight of violence placed upon Black women's bodies within the last 500 years in the name of capitalistic industry and scientific development.



---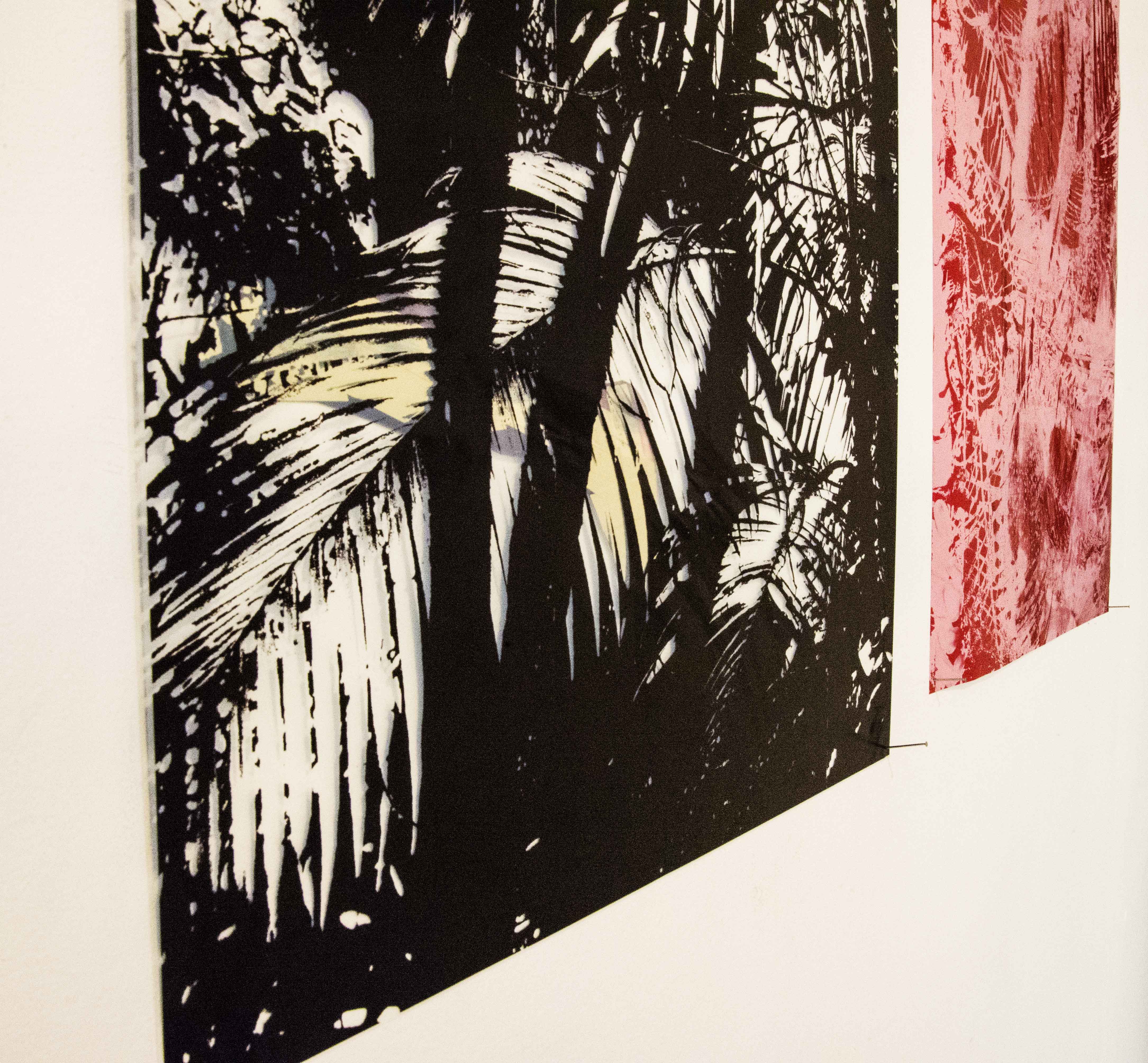 2016
While On The Watch

Mixed Media Installation

While On The Watch is a photographic installation that uses archival and surveillance images from the Haiti-Dominican Republic border to explore the politics and sensory experiences of looking and being looked at. The young child traveling across the wall is crossing the border and finding safety. The gold and red colors demonstrate how hyper-visibility can complicate one's livelihood. Gold illuminates her path through El Monte. El Monte can be translated as "mountain," but also as "wilderness," "jungle," or "woods." In the context of the Afro-Cuban religion, it is a sacred or magical place where the divine is found. The fictionalized child moves around using her knowledge of plants but this also complicates her path, by making her similar to a valued commodity that inspires capital to cut down the very trees that aid in her survival.




---


2016
Mensaje Para Escribiente / Message for a Scribe

Single Channel Video

Can a pious life transcend the colonial control over black women's bodies? Who has access to freely travel and record their lived experiences? Using excerpts from Teresa Chikaba's hagiography Compendio de la Vida Ejemplar de la Venerable Madre Sor Teresa Juliana de Santo Domingo (1752), and George Bernard Shaw's The Black Girl in Search of God (1932), consecutively, Feliz points to markers of agency.

With literacy strictly prohibited for slaves of the Spanish empire, it is unlikely that Chikaba wrote her own journal which is cited as a main source for her hagiography; and Shaw, an Irish man, writes a travel adventure novel from the perspective of an African woman. These two stories meet at a crossroads with webcam portraits and self made nature-esque documentaries made in the confines of the artist's home.


---
2016
Archive of a Maroon in Translation / Archivo de Una Cimarrón en Translación

Artist Book, Edition of 10

My family has roots in the town of Barahona, a region that also hosted the largest maroon community in Dominican Republic. I'm working to uncover this legacy for guidance in the ongoing struggle for liberation from the ruins of colonialism. The hand printed artist book made with cyanotype photographic prints, and silkscreen prints, is a result of trying to situate my modern diasporic existence within a tradition, and a meditation on the Bahoruco mountain range as a site of power.


---


2016 — Ongoing
Edits to the Master Copy

Photographs on Transparency Film and Silk

In this photographic series of interventions, the artist pulls on their training as a farmer and archivist to continuously explore the relationship between plants, humans, and memory. The "master copy" of an image is altered to disrupt any linear understanding of origins. Grafting, the horticultural technique of joining two plants together to create new growth, is placed in abstract relation to the joining of several cultures that characterizes the history of the Caribbean. Various forms of botanical instruction are also bound together without hierarchy to establish dialectical relationship between Western and Afro-Caribbean epistemologies. The result is the visual proposition to imagine new worlds.



---


2018
Harlem Death Maps

Photographs on Canvas

The Harlem Death Mapping Project was photographed in medium format film, exposed to light during processing, and assembled in prints with material interruptions or other images from the series. The project reflects on the black body's extra-ordinary proximity to death in relation to place, and asks if photography archives mirror a possible violence by its nature of distance and separation.



---